Skoshbox is a monthly subscription box that sends out popular snacks and candies as well as one or two lifestyle products straight from Japan. I am part Asian and nearly every single one of my friends have also either been to visit Japan or lived there at some point, so I am already familiar with and love many of Japan's goodies. When Skoshbox offered me a box to review, I simply could not pass up the opportunity!
The Cost: $12 a month, including shipping
The Coupon: Use code MAVEN16 at checkout to receive a special mystery add-on!
The Products: Snacks, candies and occasional lifestyle products straight from Japan (shipped from headquarters in Hawaii). Each box will come with a product card written in English so you know exactly what you are eating! The company was started by two friends with one goal in mind:
"Our mission is to explore every corner of Japan to give our subscribers access to the candies of every town's unique culture and taste. We've taken the subscription box model a step further and are bringing to our subscribers' doorsteps, products that are simply unavailable and unattainable without physically flying to Japan. We don't save you a trip to the supermarket or cosmetics counter, we literally bring the contagious spirit of Japan right to your door."
Chocoballs – These are chocolate coated crunchy balls that have peanuts in the middle. Mine were a little melted when they arrived, but they were still very delicious!
Shoyu Senbei – If you ever tried rice crackers before, these taste similarly to the white ones that look like flowers. If you have no idea what I am talking about, just know that it tastes great! In Japan, they usually serve these to guests with tea. In my house, my mother serves them at parties.
Koala's March – These are the cutest little candies ever! These are cookies with chocolate filling and shaped like bears.
Aren't they cute? You almost don't want to eat them, except they are just so darn good!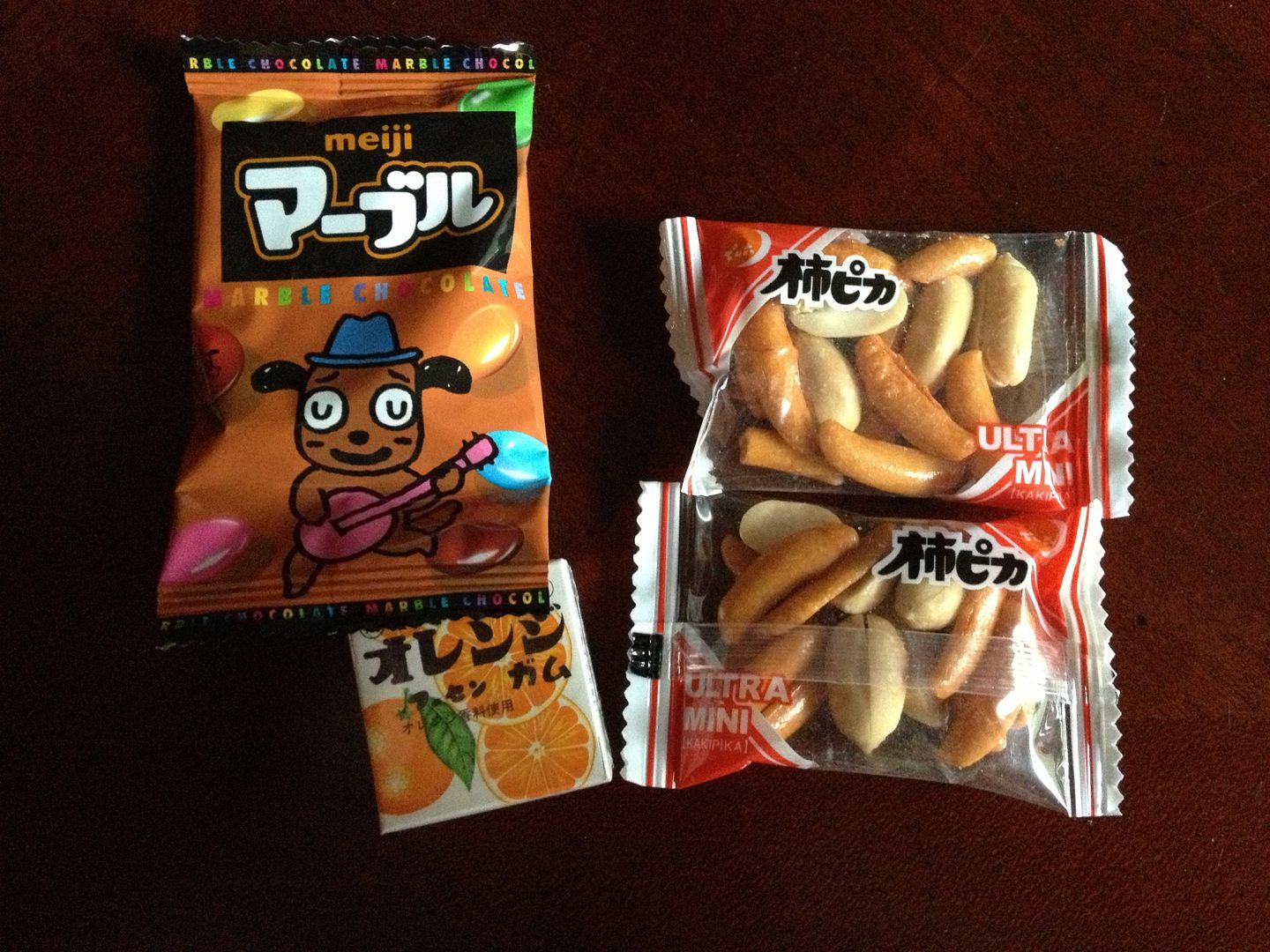 Marble Chocolate – These are like M&Ms, only the chocolate is softer
Kaki No Tane – This is a mixture of rice crackers and peanuts. It is a very popular snack. I like to pick out the rice crakers and leave the peanuts for everyone else!
Orange Bubble Gum – At first I was not sure what this was (I decided to go through the box blind without the product card). I was surprised to find that it was bubble gum! The consistency is very soft and extra sticky. It is nothing like the gum you find here and might take some getting used to!
Umaibo – These were the msot controversial snacks in the box. Personally, I loved them! The yellow is Teriyaki and I think the red one is supposed to be pizza flavored, but it tastes more like an herb-y ketchup. Sounds weird, but trust me – it was great!
Milk Hard Candy – This is kind of like a smoothie. It reminds me of those creamy Gourmet lollipops only so much better
Haichu Candy – These are a lot like taffys. I got Grape and Apple and they were both lovely. My daughter snatched half of the grape and devoured it. You should have seen how big her eyes got once she tasted it!
Air-In Eraser – I do not use pencils much, but my sister is very artistic, so this is going right to her. According to their description, it is life changing. I will make sure she reports back on this one!
Look Chocolate – This is a chocolate bar with a green tea filling, and two savory centers: azuki (a type of bean) and cream. It is definitely an interesting flavor mix and is something you probably need to get used to or grow up eating. I definitely enjoyed trying now a new mixture of flavors with my chocolate!
Thoughts: Due to the nature of the box and the products, I decided to skip calculating the values on everything. I can tell you that I do think this was certainly worth the price. This probably isn't something I would order for myself every month, but I think this would be an awesome gift subscription for a friend! I definitely will be ordering a few more boxes down the road. If you want their first official box open to everyone, place your order by July 15th!
By the way, we ate this box in about 20 minutes! Everything was just so much fun to try, we couldn't stop. I had to take a photo of the remains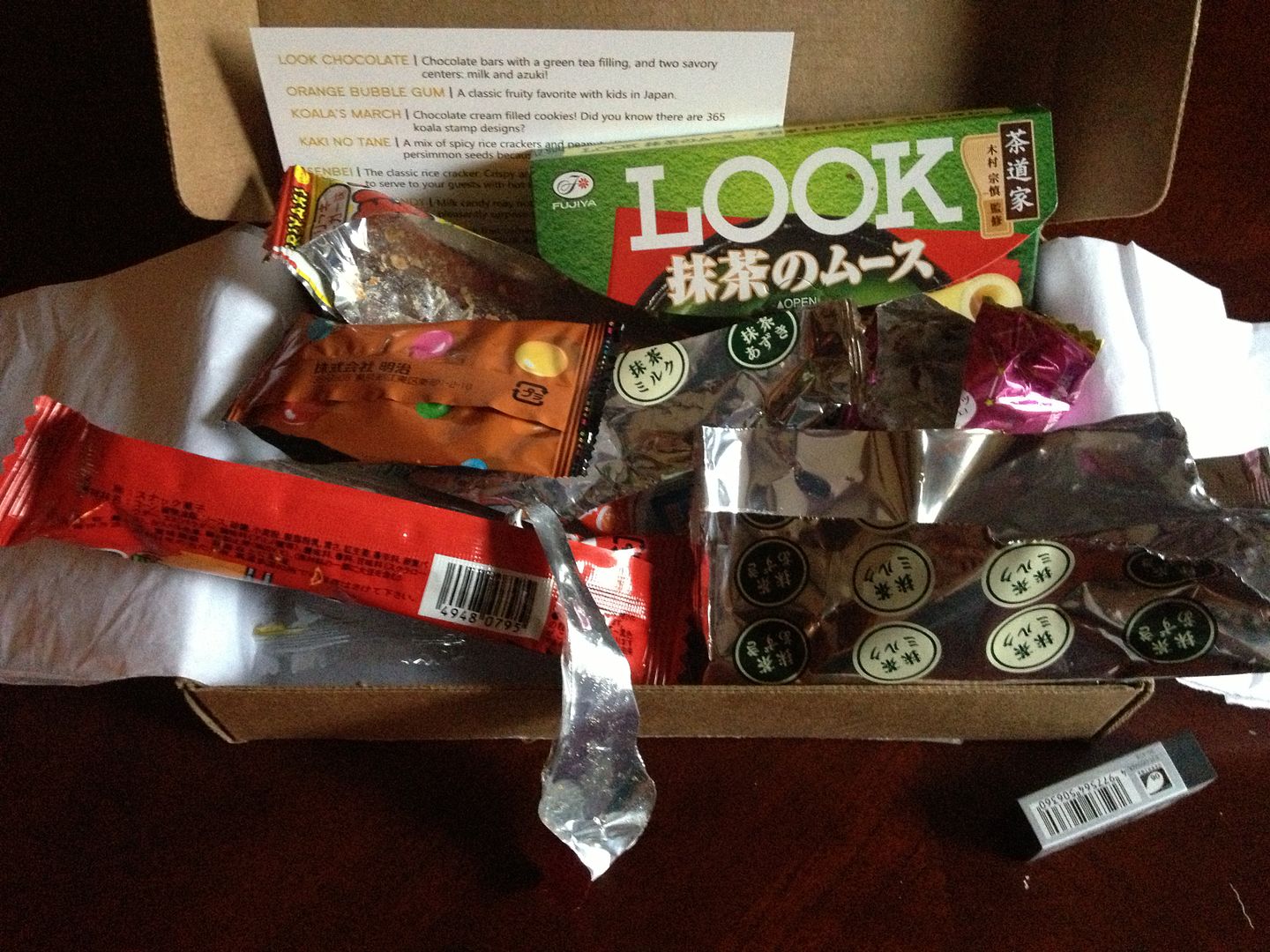 What are your thoughts on Shoskbox? Will you be expanding your taste buds and trying this new candy/snack subscription service?